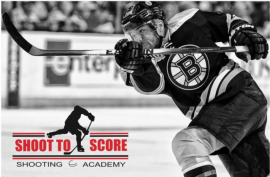 Cannon1
Sunday, Nov 5th
2-4pm
Ages '06, '07, '08
Cannon2
Sunday, Nov 5th
4-6pm
Ages '03, '04, '05
Cannon3
Sunday, Jan 7th
6-8pm
Ages '00, '01, '02
The Program
4 Players, Max Per Group
2 Teachers
Slap Shot/ One Timer
All Drills Game-Related
Video Analysis
Offense/ Defense
Woburn Location
Cost
$675- per player
This program allows players to improve all aspects of the SLAP SHOT/ONE TIMER: power, balance accuracy, and quickness. By introducing players to our Slap Shot 10 Point Comfort Zone, not only will players learn how to do it, but also . . . when and where.
20 years ago the slap shot was only used by defensemen or the occasional player who was big enough and strong enough to take it. This is because it took players too long to release, and the puck never hit the net.
When Boston Bruin Zdeno Chara was introduced to Shoot to Score by Jarome Iginla, the 2 things he wanted to improve were his slap shot and his ability to get it through traffic. He said he was not happy about being on the list of NHL players whose shots were the most frequently blocked. Well, after training with Dr. Shot, Chara went from being #2 on that list, to not being on it at all. Thank You, Glen.