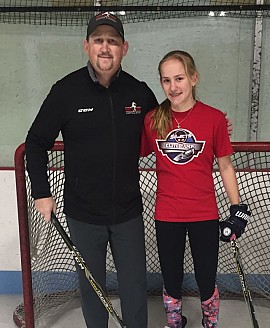 Annie Dinges with Glen "Dr. Shot" Tucker
Annie Dinges, a twelve-year-old center/forward, plays for the U12 North Shore Vipers, as well as in the E9 for the '05 Worcester Jr. Railers Elite. As if that isn't enough, Annie also plays for the Long Island Stars Quebec International Tournament Team.
Annie is passionate about the game of hockey, and she follows it at all levels. When she is not on the ice, playing for one of her teams, you can often find her off the ice getting her medicine from Dr. Shot.
Only to Annie, who devotes so much of her time working to be the best, STS instruction doesn't feel like medicine at all . . . It just feels like hard work, and that's what Annie is all about.
Congratulations! We look forward to sharing in your accomplishments!