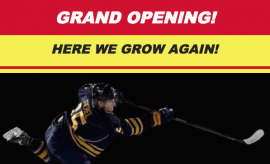 For those of you north of Boston . . . 
You asked. We answered.
Same revolutionary programming, same great staff . . .
Now in two great locations: Waltham and Woburn. 
In addition to our Waltham facility, 
Shoot to Score
will offer sniping in Woburn at 29 Draper Street, next to and in partnership with
Mike Boyle's Strength and Conditioning
.
It was only a matter of time before Glen, a world-renown expert in shooting development, would find himself next to Mike Boyle, a world-renown expert in strength and conditioning. 

Well . . . Get ready . . . It's happening!
STS Woburn is offering snipes and cellys starting this Tuesday, August 16.
Monday - Friday, 9am - 9pm, and
Saturday and Sunday, 9am - 6pm
To book your lesson call 781-216-8868 or email glen@shoottoscore.com.
If hockey greatness is what you strive for . .  then Shoot to Score is where you need to be!