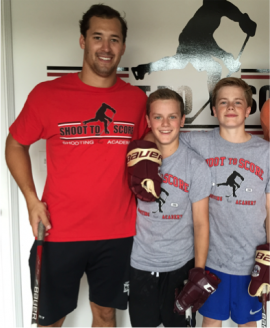 Pictured here with STS Teacher Alex Quinn, Mick (age 12, center) and Fitz (age 14, right) Frechette are both forwards for Boston Junior Eagles Elite teams -- Mick for the '03s and Fitz for the U14s.
In addition to being excellent hockey players, both are excellent students. Each attended Fessenden, and now both are at St. Sebastian's. (Fitz started at Sebs last year as a 7th grader; Mick starts in 7th grade this year.)
Fitz's first STS lessons were with his Eagles' teammates, but then he began doing his lessons with Mick. Now each has separate lessons.
Fitz confirms that his time with STS teachers is well-spent: "I can see the improvement every time we go out to practice or go out on the ice."
Mick's favorite drills at STS are when you have "a bunch of shots in one drill because you can practice a bunch of different scenarios you would see on the ice within twenty seconds. That is really helpful . . . " He continues, "It has been awesome -- seeing how much my shot has improved throughout my time there this summer."
Mick and Fitz have two older sisters, both educated at St. Paul's School and both committed to Cornell to play . . . Guess what?!? Hockey.
Thankfully, college for the boys is still a ways off, so they've lots of time to play hockey around here . . . And lots of time to continue practicing that shot.
Congratulations Mick and Fitz! Keep sniping!