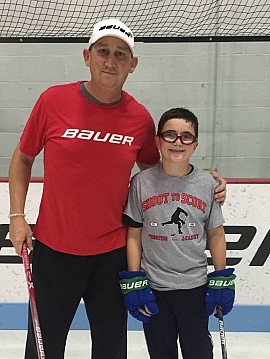 Dr. Shot and Harry Lonergan
Harry Lonergan, age 12 and an '04, recently joined the Lovell Advantage Ice Elite Team. He has been a STS devotee since his early days on the ice and credits the program for his killer shot.
Harry's favorite drills are the ones that target accuracy and rapid response: "I really like it when I take a shot almost on instinct because I have practiced it so many times at STS."
Currently a 7th grader at Saint Peter School in Cambridge, Harry is as passionate about baseball as he is about hockey. Having recently been awarded the Cambridge Youth Baseball's Leadership Award, Harry moves into the hockey season with the same commitment -- and ready to rack up goals for his new hockey team.
Harry's siblings are as dedicated to STS as Harry is. Clare, 17, a senior a Milton Academy, is a captain of the Milton Girls' Hockey Team and also plays for the U19 Boston Junior Eagles. Frankie, 15, is a top goal scorer for the Roxbury Latin Middle School Hockey Team and a forward for the Boston Stars U16 team. Both siblings credit the STS program for taking their shots to the next level. As Frankie puts it, "The shot doctor gives us a shot that we can be confident about, which is a great feeling."
Go, Harry (and Frankie and Clare!)! Keep sniping!