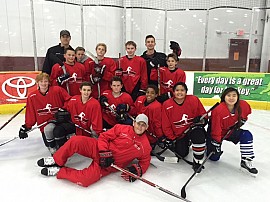 Join Us!!
Unlike traditional on-ice camps that may have upwards of 25 players, STS programs are capped between 10-12 kids, depending on the age and level. We also have a low 4:1 ratio of instructors to students. These numbers enable focused, individualized instruction, while also allowing for small-group drills.
Our instruction always focuses on how to shoot. The on-ice format, however, extends instruction to where to shoot related to game situations. We call this "Shooting Smarts." When we shift the program to real ice, we can extend to offensive/ defensive positioning and strategies without neglecting passing, skating, and puck confidence. Just remember . . . It all ends with a shot on net, followed by a great celly!
For those who have been training with us during the hockey season, the program provides a perfect opportunity to transition to on-ice game situations. If your child has not trained with us before? Prior to camp, it is necessary for each new student to come in for an introduction to our 10-Point Shooting System, as well as a full stick assessment. This lesson will allow your child to get the most out of the program. How important is this? If this is your first time with STS, this lesson will be free with your camp registration.
Players are grouped by age and skill level. All programs are open to both boys and girls; however, this year we will conduct a program for girls only, as well as a program for defense only, so please look for those weeks when you register. All programs will take place on the small ice at Boch Ice Center, in Dedham, MA.
STS's on-ice camp is our most intense program. We are for the serious hockey player, but it is important to have fun, and if you know Glen, you know it will be fun!
(Register by February 15, 2017, and enjoy a free lesson!)
We look forward to skating with your child this summer!