Thursday, February 9, 2017, 2:39PM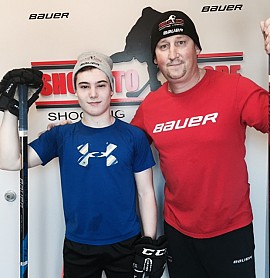 9th grader Wil Rinaldi is an '02 from Lynnfield, MA. This past fall he played with the U14 Minuteman Flames Elite where in 42 games he had 18 goals and 31 assists. Eight games into Lynnfield High School's varsity season, he has 3 goals and 5 assists. We love it when hard work pays off!
Next year Wil will attend South Kent Selects Academy, which is a little farther from Woburn : ), so Wil is getting his training in now.
But don't worry, Wil, South Kent isn't that far. We'll get you in for The Shot Doctor's medicine. It's working for you! Congratulations!
Camps

RSS

Having confidence with the puck is your key to success in hockey. My work in the past with Glen allowed me to develop my skills to the level that brought
...
Read More »