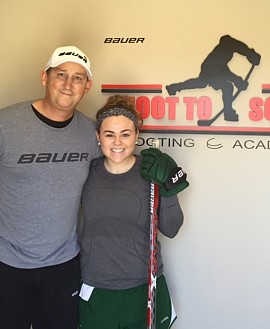 Dr. Shot with Michaela Boyle
Michaela has been playing hockey since she was eight -- for Reading Youth Hockey, the Islanders Hockey Club, Austin Prep, and the Boston Shamrocks junior program. She'll finish up her senior year and season at Reading High School and then will head to play for Clarkson University this fall!
Michaela says, "Training with Glen the past three years has taken my shot to the next level! I can't thank him enough for everything he has done for me!"
Congratulations to Michaela, who, in last Wednesday's game against Boston Latin, set a new Reading Memorial High School single-season, goal-scoring record with 47 goals. Good luck to Reading through their tournament play, and Michaela, keep sniping!