Sunday, October 15, 2017, 10:35AM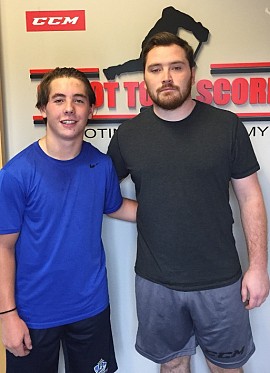 Patrick Madden
Patrick, pictured here with Mike Weaver, is a sophomore at Bishop Guertin High School in Nashua, NH. He plays center for BG and also plays for the Islanders' U16, half-season team. He is awesome, and we are super proud of his growth and effort.
If you are wondering why Mike looks so unhappy . . . Mike keeps hoping to be recognized as STS's Sniper of the Month. We told him that because of Patrick's hard work this past month, we really have to give the honor to Patrick, but maybe if Mike works really hard . . . : )
No upcoming events

RSS

"Glen Tucker and Shoot to Score Hockey School will improve your game." Ask any hockey coach what they would like to have more of in their line-up and they would probably
...
Read More »